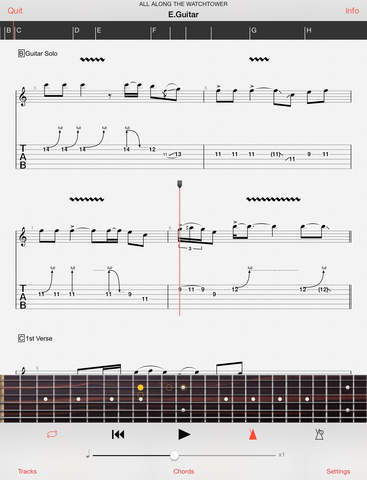 With the rise of tablets and smartphones, there are new ways to store and find your favorite sheet music and have it readily accessible in the palm of your hand at anytime.
Guitar tabs used to have to be printed out on paper to be useful, but not anymore. There are dozens of apps designed to find and display guitar tablature in a variety of ways.
Many apps even have handy auto-scrolling features so that you can play a song from beginning to end without having to turn pages or scroll.
Some apps boast over one million songs available for download, so you'll never run out of interesting songs to play. And with other apps you can create tabs for your own songs or covers.
Below is a list of the top-rated apps for guitar tabs and guitar chords for both iOS (iPad & iPhone) and Android platforms. The lists include both free and paid apps.
Best Guitar Tabs/Chords Apps for iOS
TabFinder – Guitar Tabs & Chords: This app includes a database of over 800,000 songs. You can use interactive chord diagrams, auto-scrolling to read tabs hands-free, and share tabs via social networks. TabFinder is free for iPhone and iPad, and there's an upgrade to TabFinder Pro for $1.99 to access extra features.
Achording – Guitar Tabs and Chords: This app is a search engine designed to find guitar tabs and chords from the best guitar tab websites. You can save tabs locally for offline viewing. There's an auto-scrolling feature as well. Achording is free for the iPhone and iPad, and you can upgrade to the Pro version for $0.99.
Ultimate Guitar Tabs: This is one of the more comprehensive guitar apps with over 800,000 tabs. It includes a lot of popular songs, chord diagrams, interactive guitar lessons, offline viewing, auto-scroll, and more. Ultimate Guitar Tabs costs $2.99 in the Apple App Store. Plus there are different tools and upgrades you can buy to get more tabs, chords and features.
Tab Pro: Also made by Ultimate Guitar, this app offers access to a library of 200,000+ interactive tabs and includes some additional advanced features not found in other apps, including high-quality playback, multiple tracks with audio settings, tempo control, and loop settings. Tab Pro sells for $3.99 for iPhone.
Guitar Pro: This app is more advanced than other guitar tab apps in that it allows you to create and edit tablature as well as view and play it. Other features include multitrack playback, metronome and visual countdown, on-the-fly tempo changes, looping, and exporting to PDF. Guitar Pro sells for $6.99 for the iPhone and iPad.
Best Guitar Tabs/Chords Apps for Android
Ultimate Guitar Tabs & Chords: This apps was voted by Google as one of the best apps of 2014. It includes tabs to over 800,000 songs, and offers chord diagrams, offline saving, left-handed mode, auto-scroll, and more. This apps costs $2.99 and includes in-app purchases for app upgrades.
Guitar Chords and Tabs: This free Android app includes more than 500,000 chords and tabs from hundreds of artists. Features include offline mode, auto-scroll, chord diagrams, song history, left-handed mode, and sharing.
Learn Guitar Chords: This app teaches you how to play the most popular chords used by guitarists. This app is designed for beginners to intermediate players and includes chords suitable for classical, acoustic and electric guitar. Learn Guitar Chords is a free Android app, with the option to upgrade to ad-free for a small fee.
GuitarTab – Tabs and chords: This app is a guitar tab viewer and player that offers access to a half million free tabs. It includes GuitarPro tabs, Guitar tabs, Bass tabs, Chords and Drum tabs, and features adjustable auto-scroll, chord diagrams, zooming, favorites, fullscreen mode, YouTube search, and more. GuitarTab is a free app for Android that offers in-app purchase for upgrades.
Guitar Tab Player: This app is an easy-to-use tab reader and player with support for HD quality. It supports guitar pro files. Guitar Tab Player is a free app for Android tablets and smartphones.